Dr. Corey Gonzales is featured in a new television series on Animal Planet called Confessions: Animal Hoarding.
Don't miss an all-new season of Confessions: Animal Hoarding beginning December 30, at 10PM E/P.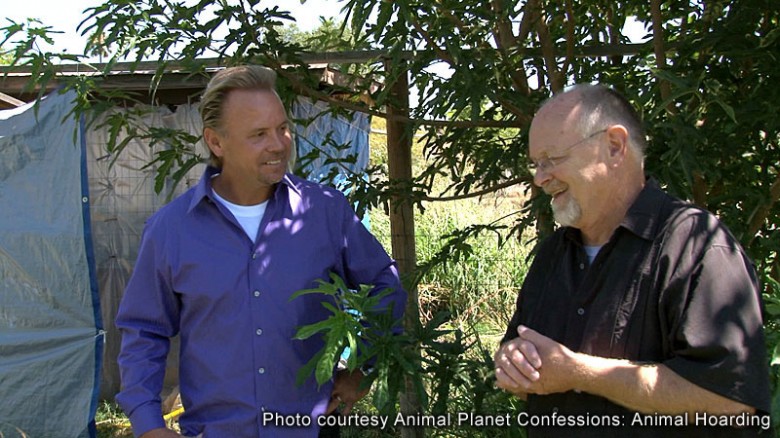 Shows featuring Dr. Corey Gonzales
Janice and JD
After Janice's estranged husband cuts off support for her 87 dogs, her family is forced to step in. JD and Patti's 20-year relationship is threatened when JD refuses to stop rescuing unwanted pets.
Lolette and Robin
Friends step in when disease threatens Lolette's 250+ cats, while a house packed with animals and junk pushes Robin's husband to the brink of divorce.
Janice, Shelley, and JD Revisited
Animal Planet revisits some of the most sensitive cases of hoarding from the previous episodes to determine how the hoarding interventions have changes the lives of the hoarders, their animals and their families and friends.
Flossie and Christine
Two women feel compelled to rescue unwanted animals. A highly paid paralegal spends thousands of dollars in vet bills for her secret hoard. A convenience store clerk is being driven to destitution by a house full of dogs, cats, pigs and a raccoon.
158 Chickens in My House
Airdate: Jan 14
Peter is a retired U.S. Army linguist who keeps 158 pet chickens. His three bedrooms have been turned over to injured hens while he sleeps on a cot in the living room. His daughter believes that dad now considers his chickens to be his family, and not her and her children.
82 Dogs and Counting
Airdate: Feb 4
Cynthia's home is a warren of cages that hold her large collection of exotic birds. A series of nasty bird bites has caused her to lose weeks of work. Her daughter is alarmed by her mother's growing isolation from the world.
Trapped by Cats
Airdate: Feb 11
Matthew has a yard filled with mangy dogs. Local animal control has threatened jail time and a fine so steep he could lose everything. When Matthew refuses to turn over any of his dogs, his three grown children band together to save their dad from himself.
80 Cats and a Baby
Airdate: Feb 25
Carol and her husband Albert want to have a baby. They're planning to raise it along with their 80 cats. But Carol's dad is in a panic. He's worried that their unsanitary home will endanger the baby's health and could even cause birth defects. Carol wants dad to mind his own business. Dad feels it's his duty to protect his grandchild-to-be.
Drowning in Cats
Airdate: March 4
Dawn is addicted to adopting animals. She obsessively scours the internet for new arrivals at the local shelter and spends all her time and money on her pets. Her 16-year-old daughter, Deanna, feels neglected and is now considering moving out to live with her father.
She Gets My Goat
Airdate: March 25
Jean's collection of pygmy goats and pit bulls is wrecking her home and fracturing her family. When her husband, Mitch, discovers that it has also brought them to the brink of foreclosure, he decides that it's now time to put a stop to his wife's hoarding.
206 "Ghost Hunter Hoarder" 
(Donna/ Debbie) 12/30/2011
207  "99 Pets"
(Greg/Shana) 1/6/2012
208 Rats!
(Bobbie/Karii) 1/13/2012
209 I Live in a Kennel
(Judy/Deanna) 1/20/2012
210
(Stan/Marie) 1/27/2012
211
(Patrick/Ginny) 2/3/2012
212
(Margrett/Angie) 2/10/2012